Founded in 1993, Inter Abrasive operated in Çiğli, İzmir between 1996-2009. It established the first sanding line in 1997, and started to produce end products such as disc, endless tape, roll cloth as well as cloth and fiber jumbo rolls coated in this way. INTER ABRASIV, which moved to its new production facility in Manisa Organized Industrial Zone in 2009, invested in a new coated sanding line and then started its cutting and abrasive stone production activities as of 2020. INTER ABRASIV, which is on the rise in jumbo cloth abrasive production and commercial products, is among the world's leading manufacturers of fiber disc and flap disc sanders. It has had a significant share in the global market with a growth rate of more than ten times in flap disc production.
Factory Click for Our Factory Video a click here
Our Mission
It is to make a profit by adopting the philosophy of Total Management Systems, with an understanding that emphasizes good service, technology and universal thinking, in which employees, customers and suppliers are business partners, to ensure its continuity and to announce our quality, which is identified with the Interflex brand in the abrasive market, to the whole world.
Our Vision
INTERFLEX With its brand, the world's abrasive products
To be a leading organization that is recognized and sought after all over.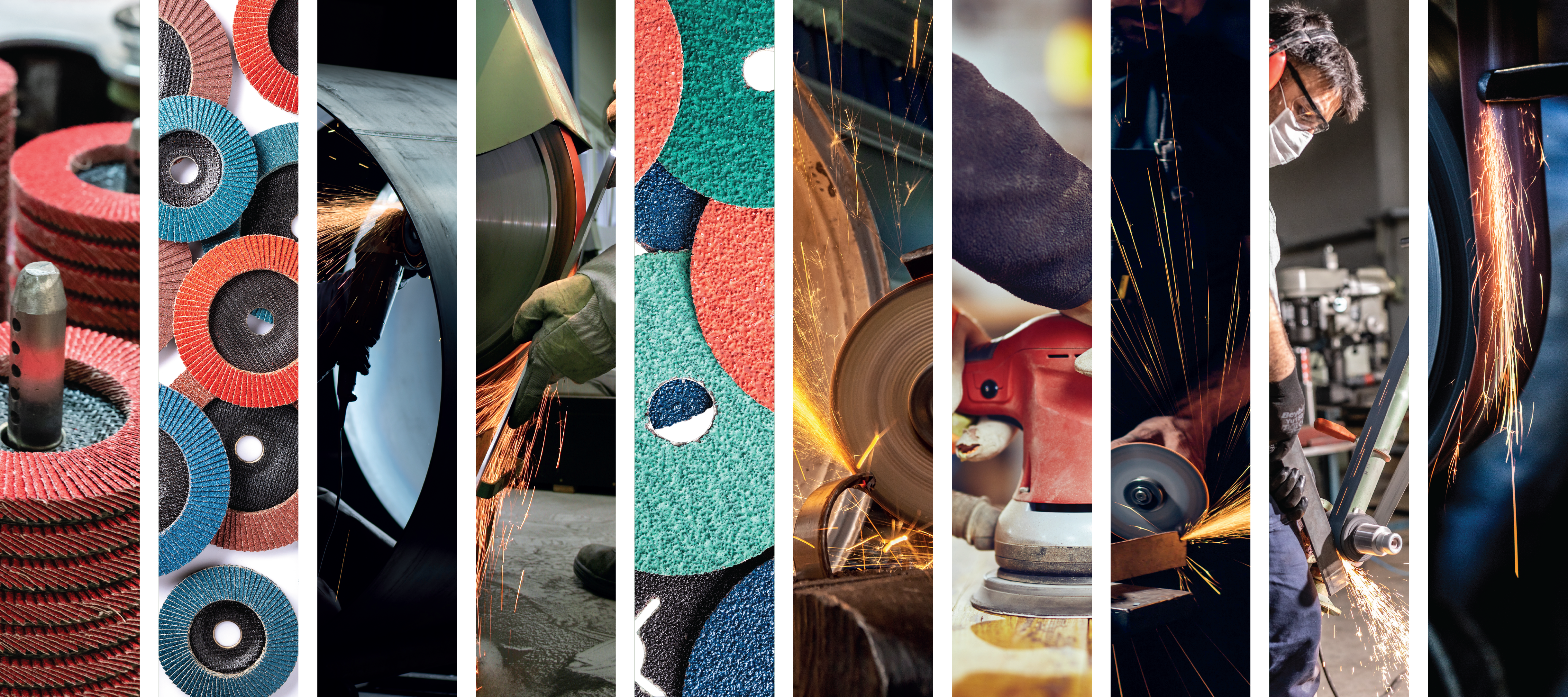 Our Quality and Environmental Policy:
In line with its mission and vision, Inter Abrasiv A.Ş. effectively uses our innovative technology, continuous improvement, quality improvement and innovation philosophy in all processes and management systems,
Understanding the needs of our customers and meeting their expectations at the desired time and quality,

To ensure the highest level of satisfaction of our customers,

To prioritize safety in the design, production and use of our products,

To follow up and improve quality from raw material to final product,

To increase our competitiveness, to always be a reliable company,

To maintain and improve the satisfaction of our employees,

To ensure voluntary and effective participation in quality, environment and safety issues and management systems requirements,

Comply with management systems requirements, legal and other requirements,

To identify the quality, environment, occupational health and safety risks arising from our activities and to minimize their effects,

To prevent waste and pollution by protecting natural resources and to protect the environment.
Inter Abrasiv Social Compliance Policy
At every stage of production and management ''Human First'' We adopt as our basic management understanding to act with the awareness of social responsibility towards our employees, society and the environment in all our activities. We believe that our core value is our human resources in order to increase the competitiveness of our customers by providing high quality products, solutions and services with sustainable growth. We undertake all the items listed below.
Child Labor
For the healthy development of children and within the framework of respect for the right to education, not to employ employees under the age of 18, to act in accordance with the procedures and principles of employing young workers,
Recruitment
In order to ensure the continuity of the company's ethical criteria, the selection of the personnel in the recruitment process will be considered as a necessary and important criterion, as well as technical and professional knowledge, compliance with the company rules and social compliance requirements of the company, starting from the recruitment phase, the following policies to prevent discrimination and harassment-ill-treatment apply,
Raising Awareness of Employees
Believing that the basis of social compliance is based on conscious employees, increasing the awareness of employees by informing them about their personal rights, company rules and working conditions during the recruitment phase and at certain periods during the employment,
Working hours
To comply with applicable laws and regulations in working hours and overtime due to efficient work and respect for human rights,
Fees and Payments
Based on the minimum wage that employees can meet their living expenses; that there is no wage below the minimum wage, overtime wages should be paid by making additions as stipulated by the law,
Discrimination
On the basis that all employees have equal rights; Discrimination in recruitment, compensation, access to education, promotion, or termination or retirement based on race, social class, religion, national origin, gender or political affiliation,
Contact
With the belief that success is through healthy communication, to keep the connections of employees alive among themselves and with managers, to establish good relations between employees and managers, to ensure the continuity of these relations, to support teamwork and cooperation; To carry out practices to encourage hardworking, disciplined, meticulous and patient behavior,
Prevention of Harassment and Maltreatment
To ensure that there is no verbal, physical, psychological harassment or coercion in order to ensure the peace of the work environment and the happy work of the employees,
Forced and Compulsory Labor
It is not possible to work in return for obligation or debt by contract and the work is voluntary,
Our Responsibility to Customers
To provide our services on time and under the conditions we promise, with a customer satisfaction-oriented understanding that responds to the needs and demands of our customers in the shortest time and in the most accurate way; Approaching our customers with respect, equality and courtesy,
Bribery and Corruption
Giving, receiving or suggesting bribes and / or commissions cannot be accepted under any circumstances, and they will be treated within the framework of ethical rules,
Supply chain management
Believing that all suppliers have equal responsibility; To evaluate the social compliance activities of supplier companies, to follow the results with action plans, to control the social compliance activities with management systems,
Freedom of Representation
To respect the representation rights of our employees,
Occupational health and Safety
Accepting the human as the most valuable asset in all its activities, creating a safer and healthier working environment and minimizing any loss that may occur, organizing trainings in order to ensure that all employees are aware of their individual responsibilities, equipped with the necessary equipment for Occupational Health and Safety to comply with the local laws, regulations and conditions regarding Occupational Health and Safety, to create a communication environment where all employees can work in accordance with the Occupational Health and Safety policy and to raise awareness about the work done on this subject, Identifying the risks related to safety and security hazards and keeping these risks under control by reducing them to acceptable levels,
Training:
To increase the occupational health and safety awareness of the employees, to organize trainings inside or outside the company to support their professional and personal development, to ensure the continuous development of the company due to the development of the employees with the trainings organized,
Environment
To fulfill the environmental requirements of all our activities at the highest level within the scope of our environmental policy, to direct and raise awareness of our work with an awareness of sensitivity on environmental issues, to reduce environmental impacts, to protect energy and natural resources,